Cos I guess it's up to me to get the ball rolling.

I love vibes, but they're always so expensive :'(
However, here's the ones I have so far:


My 1st vibe was a rampant rabbit, of course. I got it at my 1st ever Ann Summers party, when I was 18 & it wasnt till then that i learnt what a real orgasm is.

I now have 3 different rabbits: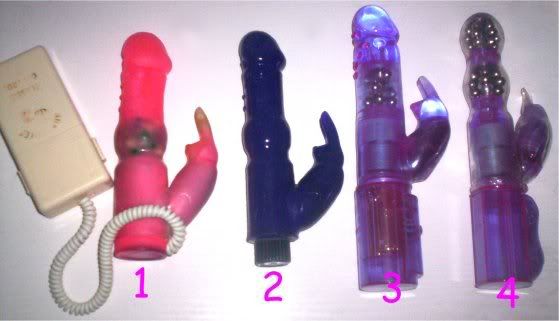 1. the original - I like how this one has a separate remote control. Makes it easier to handle, in my opinion, cos I find it difficult squirming into bendy positions when the remote is fixed on the vibe. It looks so teeny now!! it takes 3xc batteries, which, to my joy, they sold packs of 3 in my local pound shop!! Of course - anyone behind the counter with a brain would have a pretty good idea of what the batteries were for - what the hell takes 3xC batteries these days?!

2. Waterproof bunny - pretty good, fun in the shower, gorgeous colour. Got it online.

3. Deluxe bunny - only got this about a week ago, from Ann Summers. Bigger than the original & has spinning ball bearings instead of those odd little moving balls. yees yes, i likes this one.

4. This isnt a rabbit - in fact, I'm not sure what its supposed to be :/ But it has 7 different speeds on the vibe, including pulsating ones & others that get gradually faster. It also has 2 spinning ball bearing thingies, which is always good :P My most expensive vibe so far - although I think I prefer the rabbit.
Oh how I love their two little ears!!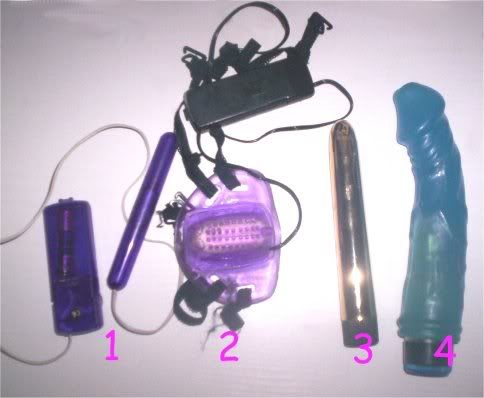 1. Purple Tingler - this is my fave. It's teeny, but DAMN can this little dude vibrate!!! It's great cos it can be used all over your body & can also be used during sex. Good for sensitive nipples &, of course - nifty enough to fit anywhere you so desire....

2. The Butterfly - i loved the idea of this one cos it has leg straps, so I figured less work for me, cos i dont even have to hold it (I'm a lazy sod). I think the straps could do with being much tighter, though. Fun to wear during sex, mind you!!

3. The bullet - i got this cos it was cheap. It vibrates pretty well & makes me giggle when it's cold

4. Jelly Dong - got this one last week. It's a nice size & very wobbly, being jelly & all. However - it smells funny :/ It's got an odd twangy smell that its had since i took it out its packet.

Anyone know how to rid it of the smell?
Baking soda has been suggested - any others?


So, thats my vibe collection. Sorry if it bored you, but i didnt know how else to start the ball rolling.
Someone else post?!